Posted on 16 Oct 2014 | Posted in Events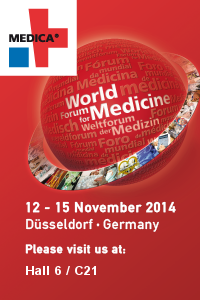 It's more than 12 years now; HLL is a regular participant of MEDICA every year. Medica provides the platform for innovative products and systems that make an important contribution to the efficiency and quality of patient care. The annual fair was founded in 1992 and is open to trade visitors only.
The MEDICA is the world's largest medical marketplace annually organised in November in Düsseldorf. 115,000 square-metres of floor space, exhibitors from more than 70 countries, exhibition halls, conferences, forums, several special stands - MEDICA covers the entire spectrum of exhibits for both ambulant and in-patient treatment.
Started in 1969 with just 135 exhibitors, MEDICA was gradually growing and over the years it became the world's largest medical trade fair covers a wide range of relevant topics which include Electromedicine, Medical technology, Laboratory equipment, Diagnostics, Physiotherapy, Orthopaedic technology, Single-use and consumer items, Information and communication technology, Operating tables, medical furniture, Medical services and publications etc.
All the best for HLL at MEDICA 2014!