Posted on 25 Nov 2016 | Posted in Events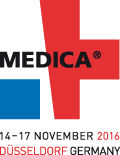 World's biggest healthcare exhibition, MEDICA 2016 will be held at Dusseldorf, Germany from 14th to 17th November 2016. Like previous years, HLL will be taking part of MEDICA this year also. Please find us at Hall 06, Booth No. 6C21.

Medica with its 5 days dedicated to medical products, pharmaceutical products, medical technological products and health care service facilities presents itself as Europe's most comprehensive medical trade fair. Held at the Dusseldorf Exhibition Centre, this event acts as a breeding ground of revolutionary ideas in medical care. With IT solutions, leveraged healthcare practices and alternative healing procedures forming an integral of this event, Medica draws medical professionals from all across the world to exchange working knowledge and ideas on leveraged healthcare.

MEDICA is the world's largest event for the medical sector. For more than 40 years it has been firmly established on every expert's calendar.