Posted on 13 Jan 2016 | Posted in Events
 S-napkins in a snap!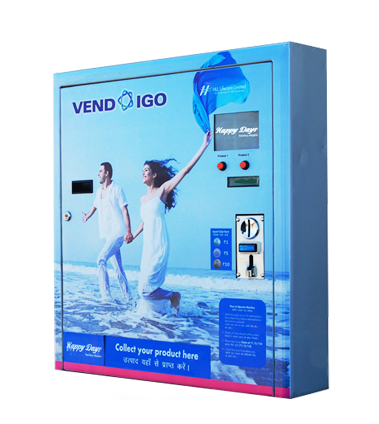 Girl students have free access to sanitary napkins "Happy Days" at their fingertips. Shri. C. Raveendranath, Minister for Education, Government of Kerala inaugurated the sanitary napkin vending machines installation in 150 government and aided schools in Thiruvananthapuram District on 22nd November 2016.   HLL is the implementing agency for first-of-its kind project by District panchayath part of its 'Manasa Plus' Project. HLL has installed its vending machines VENDIGO for offering high quality and affordable sanitary napkins.
Designed to benefit school students, VENDIGO machines would enable them to access sanitary napkins round the clock at the touch of a button.  A pack of three napkins will be available on inserting 10 rupee coins. The sanitary napkin is manufactured at HLL's Kanagala Factory at Belgaum, Karnataka.
"Education should touch upon every aspect of human life so that we help children build a positive aspect of society and have empathy for others" Raveendranath said while launching the Project.
HLL VENDIGO machines, along with incinerators, will be installed at schools in Palode, Nedumangad, Vithura, Neyyatinkara, Kattakada, Venganoor, Maranalloor, Malayinkeezhu, Balaramapuram, Parassala and Aryanadu.
HLL Vending machines and Incinerators are also approved under the Swachh Bharat Urban and Rural programmes of the Central Ministry of Urban Development and Ministry of Drinking Water & Sanitation.
In addition to Kerala, HLL VENDIGO machines have also been installed in Delhi, Rajasthan, Madhya Pradesh, Maharashtra, Haryana and West Bengal.